Chicken Enchilada
Chicken Enchilada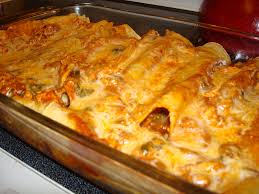 Chicken Enchilada
Ingredients:
2 cans green chilies, chopped
12 flour tortillas
3 cups sour cream
2 cups cottage cheese
Salt and cumin to taste (ground or whole)
1 pound Monterey Jack cheese or Farmers cheese
3-4 chicken breasts, boiled and chopped*
Instructions:
Mix all ingredients together in a mixing bowl.
Fill tortillas with about 2 tablespoons mixture. Roll into cigar-like rolls and place, side by side, into a 9 x 13 inch pan.
Bake in oven, covered with foil, for 30 minutes at 350 degrees.
Serves 6-8
* If I'm in a hurry I take boneless, skinless chicken breasts from the freezer and microwave them covered with waxed paper. Allow three minutes for each breast to cook on high. Turn them once so they will cook evenly. Then cut them in pieces and add them to the rest of the ingredients.
To see my books visit http://www.amazon.com/-/e/B007F5H0H4
To see my other blog visit https://godslittlemiraclebook.wordpress.com/