This Year's Calendar
This Year's Calendar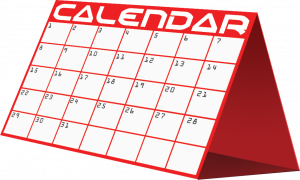 It's funny how calendars run some years. This year of 2018 is no exception. On Valentine's Day we also have Ash Wednesday. This is the beginning of Lent–a time of self-reflection and repentance. A time to re-commit our lives and living to Jesus, the one who knows us best and loves us most.
Easter falls on April 1–April Fool's Day. I'm sure unbelievers watching the events of those few days some 2,000 years ago were sure Jesus' followers were fools, for sure. But God has a way of turning those who think they are wise without Him into utter fools instead (Romans 1:22).
Another scripture comes to mind from Proverbs 3: 7 ,8. "Do not be wise in your own eyes. Fear the Lord and turn from evil. It will be healing to your body and refreshment to your bones."
So, on this Easter, let us be fools for Jesus and let Him be our wisdom, our righteousness, and our healer.
P.S. Passover comes this year just six days past Easter–a special reminder once again Jesus IS our Passover Lamb. The Lamb of God who takes away the sin of the world (John 1:29).
To see my books visit http://www.amazon.com/-/e/B007F5H0H4
God's Little Miracle Book is now available in audio at https://itunes.apple.com/us/artist/sally-jadlow/1303687606 for iTunes and at Amazon at https://www.amazon.com/-/e/B007F5H0H4