Cream Cheese Mints
Cream Cheese Mints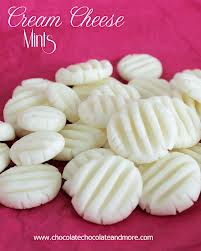 Here's a simple recipe for a yummy bite.
4 oz. cream cheese, room temperature
Exactly ½ teaspoon peppermint or spearmint extract
3 cups powdered sugar
Beat the cream cheese with a mixer until smooth, add the extract and some of the powdered sugar and mix until combined well. Then add the remaining sugar and mix until well combined.
Shape into ½ inch balls and place them on a parchment lined cookie sheet. Press flat with a fork and then chill until ready to serve. Store in the refrigerator in an airtight container for up to two weeks or freeze for up to two months.