Company Chicken Crescents
Company Chicken Crescents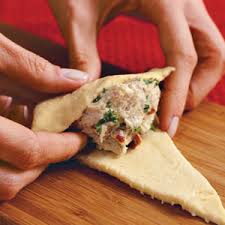 A friend recently shared this recipe with me. It sounded yummy. I tried it a couple of nights later. Oh my gosh! It was delicious! Let me know if you agree.
Company Chicken
1 cup cooked, cubed chicken breast
8 oz. cream cheese (onion with chives)
2 Tbsp. butter
½ cup mushroom slices (optional)
½ cup crushed Pepperidge Herbed Croutons
½ cup chopped Pecans
3 Tbsp. melted butter
1 can crescent rolls
Mix together the softened cheese and 2 tablespoons of butter; add chicken and mushrooms.
In a separate bowl mix crushed croutons and pecans.
Roll out crescent rolls
Put 1 tablespoon chicken mixture in each roll. Roll up and close ends.
Dip rolls in melted butter, then roll in crouton and nut mixture.
Bake at 375 degrees for 15 to 20 minutes.