Chicken Veggie Noodle Soup
Chicken Veggie Noodle Soup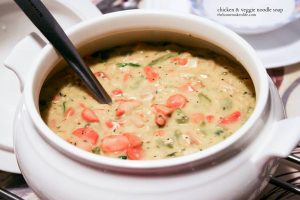 With all we've eaten over Christmas, our insides would probably appreciate a nice rest. This might do.
Chicken Veggie Noodle Soup
Ingredients:
1 large carrot, peeled and diced
1 onion, peeled and chopped
5 lasagna noodles cut up into small pieces (or noodles of choice, shell noodles would work great)
1 red bell pepper, diced
1 green bell pepper, diced
2 garlic cloves, minced
6 cups chicken broth
1 pound of boneless and skinless chicken, cooked
1/2 cup 15% cooking cream
2 handfuls baby spinach
19oz (1 can) cannellini beans
1 cup shredded parmesan
1/4 cup whole milk
1/3 cup flour
2 tbsp cornstarch
1 tsp oregano
1 tsp dried parsley
1/2 tsp paprika powder
4 tbsp unsalted butter
1 tsp sea salt
Directions:
1: In a large pot, melt butter over medium-high heat. Add in onions, garlic, carrots and bell peppers. Cook and stir for approximately 5 minutes.
2: Add flour to the mixture and continue stirring for a couple of seconds.
3: Pour in the chicken broth and then cornstarch. Turn heat down to low. Continually stir and add in oregano, salt, paprika powder and parsley for approximately 5 minutes. Add in cooked chicken, noodles and beans. Turn the heat up to maximum and let mixture come to a boil.
4: Once the mixture has come to a boil, turn the heat down to low and let simmer for 35 minutes, continually stirring. Once you are done, test to see if the noodles are cooked. They should be completely soft.
5: Add in the spinach, followed by the cooking cream and parmesan. Stir for another 2 minutes. Pour in milk – you can pour in as much as you need for your desired consistency. Continue seasoning to your desire.
To see my books visit http://www.amazon.com/-/e/B007F5H0H4