Southwest Chicken Chili
Southwest Chicken Chili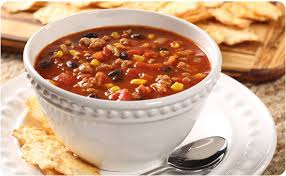 One good thing about winter–soup. There's nothing better than to come in from frigid frost to an aroma of a hot dish ready to eat.
This recipe calls for a crock pot. I prefer it cooked slow in an iron skillet. Either way, it's delicious.
Southwest Black Bean Chicken Soup
Ingredients
1 pound cooked chicken
3 (15.5 ounce) cans black beans, drained and rinsed
2 (14 ounce) cans chicken broth
2 (10 ounce) cans diced tomatoes with green chili peppers
1 (15.25 ounce) can whole kernel corn
1/2 large onion, chopped
1/2 cup chopped jalapeno peppers
2 cloves garlic, chopped
2 1/2 teaspoons chili powder
2 teaspoons red pepper flakes
2 teaspoons ground cumin
1 teaspoon ground coriander
salt and ground black pepper to taste
1/2 cup sour cream, or to taste
Directions
Place chicken, black beans, chicken broth, tomatoes with green chili peppers, corn, onion, jalapeno peppers, garlic, chili powder, red pepper flakes, cumin, coriander, salt, and black pepper in a slow cooker; cook on Low for 8 hours. Serve with about 1 tablespoon sour cream on each serving.
To see my books visit http://www.amazon.com/-/e/B007F5H0H4