Wisdom for Today
Wisdom for Today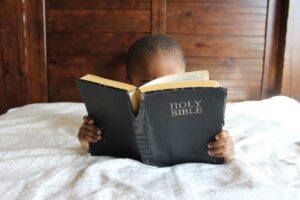 In these times, we need wisdom and knowledge to safely navigate each day. The Bible spoke of such men in 1 Chronicles 12:32. It speaks of the sons of Issachar, men who understood the times, with knowledge of what Israel should do. If God is the same yesterday, today, and forever (Hebrews 13:8) He can make us as the sons of Issachar also.
He didn't leave us as sitting ducks without an instruction book. The little lad in the picture is well on his way to being one of those sons of Issachar.
Upon occasion we may hear something that sounds like wisdom but is not. A great way to check if that word is from God is to see if it lines up with the Bible. The only way you're going to know if it's truth, is to have read the whole Bible first–and then again–and then again until it becomes a part of you.
A sure way to receive wisdom is to ask the Author of all Wisdom. James 1:5 says if any person lacks wisdom, let him ask of God, who gives to all generously without reproach, and it will be given to him.
The next verse adds a qualifier. But he must ask in faith without any doubting, for the one who doubts is like the surf of the sea, driven and tossed by the wind (James 1:6).
So, if you want God to give you wisdom for these days, follow Proverbs 3:5-6 which reads:
Trust in the Lord with all your heart;
do not depend on your own understanding.
Seek His will in all you do,
and He will show you which path to take.
My books are available at https://www.amazon.com/-/e/B007F5H0H4