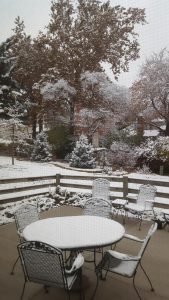 Suddenly it's winter in Kansas. I wrote this poem after the recent snow storm.
Winter Sneaks In
shrouded with darkness
when no one is looking
with a blast of frigid air
followed by snowflakes
blown sideways
into unsuspecting
mid-November night
screaming,
"I'm here whether
you like it or not!"
My titles are available on Amazon.com here.
God's Little Miracle Book is now available in audio at https://itunes.apple.com/us/artist/sally-jadlow/1303687606 for iTunes and at Amazon at https://www.amazon.com/-/e/B007F5H0H4