Trippin' in Russia, Part I
Trippin' in Russia, Part I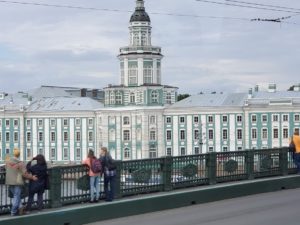 How does one spend two days in Russia? There was so much to see and so little time.
I found it to be a land of great dichotomy. Everywhere you looked there were grand palaces built for the Tsar and his family members. One palace, the Hermitage, winter palace of the Tsar, originally contained 1,000 rooms (pictured above). Each room is the size of a large home with elaborate inlaid floors,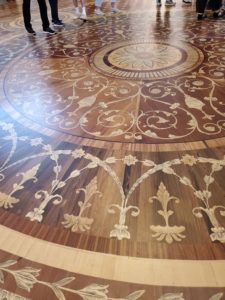 Each room had 30-foot ceilings, priceless paintings on every wall, and marble statues. The reception hall alone boasts columns with nineteen pounds of gold on them. Now, it consists of a whole complex of buildings which are museums.
The Tsar's over-the-top opulent summer home, Peterhof, (pictured above) sits on 260 acres surrounded by 200 fountains, many with gold statuary in them.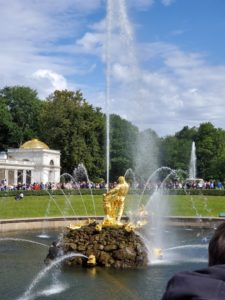 The Tsar enjoyed watching people get wet, so he installed "tricky fountains." If a visitor sat on a certain bench, or stepped on a certain rock, the fountain turned on and drenched the unsuspecting guest. Now, adults and children wait in anticipation for a chance to get caught in the spray. This palace sits about a mile from the Bay of Finland with a large canal leading to the residence.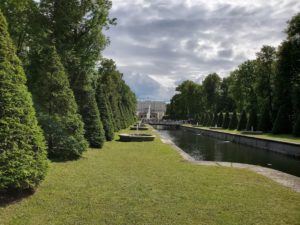 The current common people live in apartments (new ones pictured above) consisting of a living room and a bedroom. Their bathrooms and kitchens are shared with the other people on the floor. Under Communism, these apartments were furnished free. If they want to buy their apartment now, each one costs $50,000. Their average salary is between $300 to $1,200 a month. Now they are constructing half-mile long apartment complexes with at least twenty buildings in each group. The older buildings are no more than four stories tall. During the time of the Tsars, no house was allowed to be taller than the Tsar's four stories. At the parkways, flowers bloom but they do little to brighten the drab, sameness of the dingy buildings. Our guide told us now they were allowed to have multiple jobs, whereas before, each person could only have one.
In order to increase the birth rate our guide told us their government pays parents $7,000 for the second child. If a couple has three children, they can receive a plot of land in the country to farm at no charge.
Our guide informed us that under the Communist regime, most of the 800 churches in the city were put to other uses. We drove past one with a very elaborate facade and she said, "This one used to be a roller rink." Others were used for grain storage. The guide boasted that now, under the new government, they have 268 operating churches. This is in a city of five million permanent residents and two million temporary ones.
On the ship, we received live news feeds from CNN and BBC on our room TVs. When we pulled into the port at St. Petersburg, those same channels had only an announcement on the screen stating the news channels were unavailable. We asked the captain about it. His explanation: "Oh with all these tall buildings the signal is poor here." I guess he wanted to keep pulling his ship into Russian ports.
Along the streets which sit on a canal, they built side paths that go down to the water. These were built so horses and carriages could use the frozen water as streets on the Neva River in winter.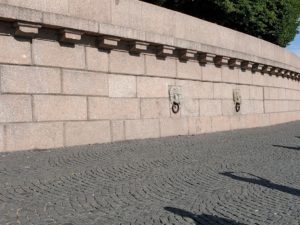 St. Petersburg is big on education. The city houses 100 universities. These are free, unless you want to go on to be a highly skilled person like a doctor.
The port was quite a distance from the sight-seeing area, therefore we had to take tour buses, rather than walk. Unlike at other ports there were no hop-on hop-off buses available. Each time we left the ship or returned we had to go one-by-one past a stern Russian official to show our passport. If we didn't take an approved tour we had to have a visa. There was no way I planned to take off on my own.
I'll share more about Russia next week.
My latest book, Joshua's Journey: One Boy's Victory Over Allergies is available here on Amazon.com. All my books are available in Kindle and paperback. The Miracle Books are also available in audible.