Russia Part II
Russia Part II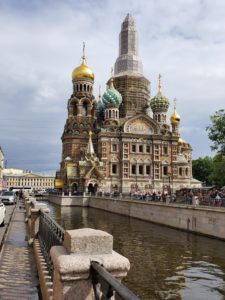 Our first tour began at 8:30 a.m. After an extended walking tour we passed a basement with a sign outside that read, "TOPLESS BAR". Around the corner we could see the Church of the Spilled Blood with its lovely multi-colored onion domes several blocks ahead. This church was ordered to be constructed by Tsar Alexander III, on the spot Tsar Alexander II was assassinated on March 1, 1881. Unfortunately, the tallest spire is under renovation.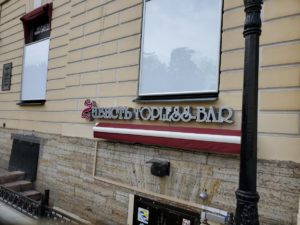 As we approached a bridge across the canal our guide warned us of two things. Keep a tight hold of your purse and cameras and beware of people in costumes who want you to take their picture. Get a quote of the price before you take snapshots with them. If you wait till after, their price will go up exponentially."
Too late. A guy dressed as an old English lord complete with the fake curled hair had already engaged Josh. The Russian kept posing with Josh and then wanted him to take pictures with me.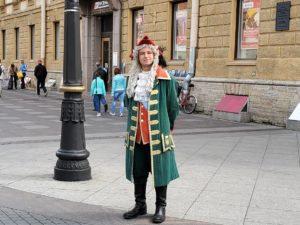 By now, our walking tour was nowhere in sight. He demanded $25.00. I told him I didn't have any rubles. That made no difference to him.
When we finally settled with his demands, our group was long gone—somewhere. We had all been issued a sticker on our clothing to indicate we were group 38. All I had to do was to find more people with the same number on their clothing. Knowing we had intended to visit the church a few blocks ahead, Josh and I took off on the left side of the canal. After about a block, I spotted our group on the right side. Several clumps of young Russian men watched us as they sat in small groups. I noticed a bridge ahead and crossed over to the entrance of the church hoping to find our group. They were nowhere to be seen. Perhaps they had already entered the church. There was just one problem. Our guide had the tickets to get in.
I asked a stern looking guard how we could enter. He didn't speak English and after a glance in our direction he stared straight ahead. Another guard spoke broken English. I tried to tell him our dilemma. It was a little like the routine of "Who's on First?"
He went inside. When he returned, he told us there were no groups in there with our number on their stickers.
I texted my brother-in-law, Doug. Meanwhile the guard told me to go to the far side of the church to the east. We made our way through the throng and finally spotted our group.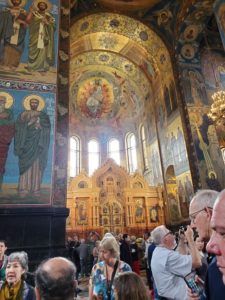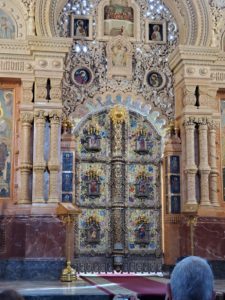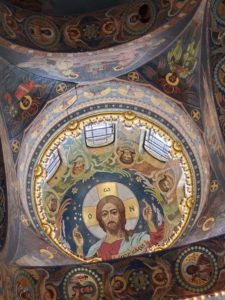 The interior of the church is more breathtaking than the outside. Elaborate mosaic portraits of the apostles are set in huge arches. The floor and walls are covered in elaborate mosaic designs and icons with more than 20 types of minerals including jasper, rhodonite, and Italian marble. There were no pews. When Russians go to their three-hour services, they stand for the duration.
We visited St. Nicholas's Cathedral known as the Sailor's church, but were unable to enter because a wedding was about to take place. Also we visited St. Isaac's Cathedral which was equally spectacular. This church was heavily bombed during WW II and has undergone extensive renovation.
Near the end of the tour we passed the facility built for the world cup soccer championships. There is a restaurant on the top of the spire. I'm not sure I could down my dinner if I had to eat there.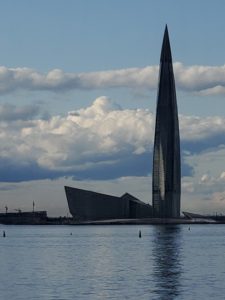 After a day of extended sightseeing, the bus brought us back to the ship. In Russia, unlike other ports, we not only had to go through the mandatory stuff-through-the-x-ray-machine routine, we had to stand in lines, one by one, to show our passports each time we got off or boarded the ship. These were not cruise facilities, these were Russian, complete with scowling, uniformed officials behind glass walls. One day we took two tours and had to go through the whole routine twice. With all its faults, the U.S. is a wonderful place to live!
Next week we'll visit Helsinki, Finland.
My latest book, Joshua's Journey: One Boy's Victory Over Allergies is available here on Amazon.com. All my books are available in Kindle and paperback. The Miracle Books are also available in audible.