Tallinn, Estoni
Tallinn, Estoni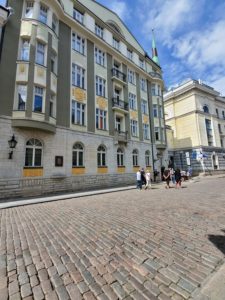 Of all the places we visited on our recent cruise of the Baltics on Royal Caribbean, I think Estonia was my favorite. With great trials come great anointing. On the way to the town square we happened upon a sign at the basement of a lovely-looking house which read, "One of the most notorious and feared prisons during the Soviet occupation. Open for visitors."
We wandered in, unaware of the history of Pagari Prison. We learned in the years 1944-1989, the Soviets imprisoned over 35,000 political prisoners in Estonia. Many were murdered or died in prison camps. More managed to return home after Stalin's death. Those interrogated were denied sleep and proper food while being interrogated by morning and night shift tormentors. Their families were also threatened with physical violence which was often carried out. In 1949, 20,000 people were exiled for life to Siberia. During Khrushchev's rule, many were returned. A wrong word or an awkward glance could get you shot or imprisoned during these years.
As we reached the town square, happy music greeted our ears where a street fair filled the empty space. To listen to this happy music click here.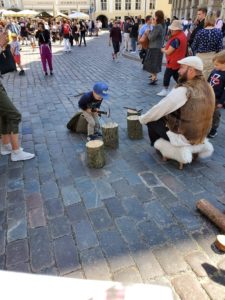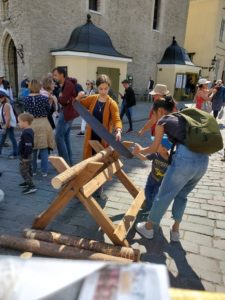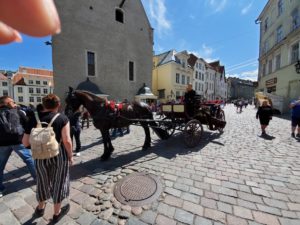 We stopped in a small restaurant for a panini bread and moose ham sandwich. I'm here to report moose ham tastes just like pork ham. If you look closely, you can see the moose ham hanging in the corner near the front window.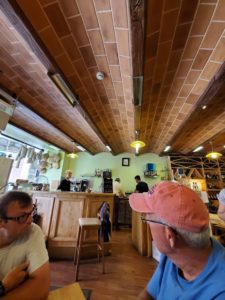 We ended our walking tour along cobblestone streets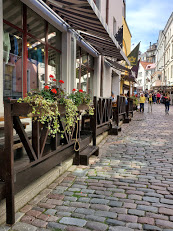 to the high point of the city at the fortress, the Neitsitorn, built in 1219. Today is serves as a cafe opened in 2012.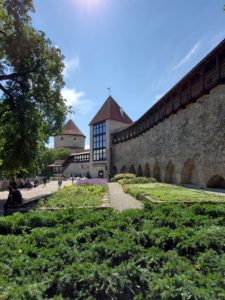 Next week we will arrive in St. Petersburg, Russia.
My latest book, Joshua's Journey: One Boy's Victory Over Allergies is available here on Amazon.com. All my books are available in Kindle and paperback. The Miracle Books are also available in audible.