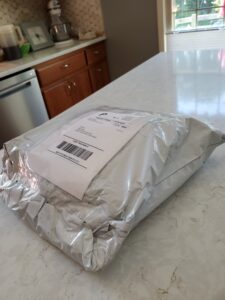 The UPS and Me
This past week the UPS truck made a stop at my home. I found  package on my porch, brought it inside.
What had I ordered? I couldn't recall anything as I cut the plastic sleeve open. Inside I found a lovely gray and white fabric shower curtain which was not mine. I looked at the address. That was correct, but the addressee didn't live here.
The next day I took it to the UPS store, stood in line, and finally got to the front. "I didn't order this. I'd like to send it back, please," I told the employee.
She took one look at it and said, "You've opened the package. You'll have to pay the shipping to send it back."
"But I didn't order it."
"Makes no difference. You opened it."
"I'm not paying to send back a package delivered to me my mistake."
The clerk shrugged.
Rather that argue with her, I took the package and left. I had a choice. I could try to find the correct person, or forget it. When I got home, I opened the shipping label on the front and found an order number and the place it came from. I also found a phone number and called it.
I explained the situation. The employee put me on hold. After a long pause she took my email address and said, "We'll send you a label to return it."
I'm sure this happens a lot. Some people probably would wave it off with "That's just the cost of doing business. It happens all the time."
Just because it happens all the time doesn't make it right. I saw this as a test. Would I do the right thing or not? Proverbs 16:7 says, "When a man's ways are pleasing to the Lord, He makes even his enemies to be at peace with him."
I want all my ways, even the small, insignificant ways, to please the Lord, don't you?
My books are avaialbe at https://www.amazon.com/-/e/B007F5H0H4