Sowing and Reaping
Sowing and Reaping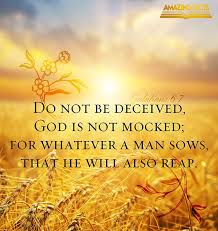 The day after we were married over fifty-five years ago, the Supreme Court of this land handed down the edict that prayer was no longer allowed in schools.
In January 1973, just forty-five years ago, that same court made abortion legal. According to the Center for Disease and Control, at the end of 2013, there have been 51,888,303 abortions reported to that department since 1970.
The Bible tells us in Hosea 8:7 that if you sow the wind, you'll reap the whirlwind.
Farmers know if you plant carrots, you'll get carrots. If you plant potatoes you won't harvest beets.
For over fifty-five years we've sown unbelief, death, and disrespect—for God and His creation. Now we are shocked to see the abundant crop of evil we reap today.
There is one way and only one way to kill this evil. It's repentance.
We need to admit to God our corporate wrong and ask His forgiveness. Daniel 9 contains a classic prayer he prayed.
As I pondered our terrible mess in prayer, I wrote my own Daniel type prayer. I invite you to pray it with me.
Father God, our harvest is grim. We are exceedingly grievous in Your sight. Our stench has reached Your nostrils. We have no words to express to You our grief at our evil. We have sinned against You and You alone. We have not one shred of righteousness in and of our selves. We have no hope in and of ourselves. We are utterly bankrupt. We cannot save ourselves. Without You we have no hope.
Come, Lord Jesus. Save us. Deliver us from ourselves. Heal our brokenness. Cause our blind eyes to see with Your clear vision. Give us heart transplants. Remove our heart of stone and place in us hearts of flesh—tender toward You and Your ways. Grant us Your strength that we may withstand all the enemies' allure.
Touch our tongues with Your fire. Direct our pens to write Your heart. Touch our deaf ears with Your healing hand that we may hear You clearly. Pour Your obedience into our hands and feet that we may walk blameless paths before You and perform Your will with pure hearts and clean hands. Cause us to once again walk in Your bright path and no longer stumble in darkness along crooked paths.
We cry out for Your mercy. Oh God, we have no healer but You. All our hope is in You, Jesus. Only You can save us. Only You can cleanse us. Only You can make us right in God's sight. Baptize us with the Holy Spirit and fire. May we burn brightly before You all the days allotted to us, to Your glory, praise and honor.
To You be all might, power, glory and praise, our Almighty God, our Savior and deliverer.
To see my books and hear the audio visit http://www.amazon.com/-/e/B007F5H0H4