Simple Gluten-Free Peanut Butter Cookies
Simple Gluten-Free Peanut Butter Cookies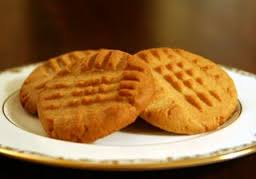 A friend shared some gluten-free cookies with me the other day. Even if you're not gluten-intolerant, these are delicious! These would be great cookies to let your kids stir up to combat the summer boredom.
Try them and let me know what you think.
Gluten-Free Peanut Butter Cookies
Stir together:
1 cup peanut butter
1 cup sugar
1 egg
Drop by spoonsful onto a greased baking sheet or on parchment paper. Smash them flat with a fork. Bake at 350 degrees for 10 minutes or until slightly brown on the bottom. Let stand for a few minutes before removing from the pan.
Careful. They're easy to over-cook.