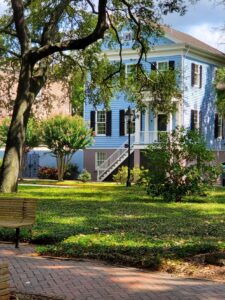 When my son, Josh, and I left St. Simons Island, we headed north. I saw the signs for Savannah and decided since neither of us had seen that area before, we'd stop. Google routed us around a wreck ahead which took us longer to get there.
The person at the visitor's center told us we needed to walk to the famous homes, rather than drive–why, I don't know. We set out on foot in the sweltering heat. After a few blocks we paused, looked at one another and agreed to go back to the parking lot.
For some reason, I'm attracted to doors and snapped this picture on the edge of the area, but we never made it to the homes.
We passed this interesting gate before we reached the parking lot.
Soon after we were into South Carolina where we bought some delicious peaches. More on that next week.