Cane Ridge Meeting House
Cane Ridge Meeting House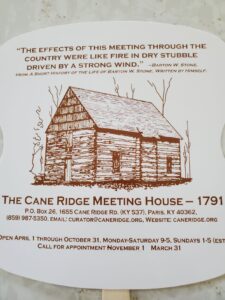 Another place we made a brief stop on our trip to Georgia was Cane Ridge, KY about 12 miles outside Paris, KY. The year after the outpouring of the Holy Spirit at the Red River Meeting House near Russellville, KY which I wrote about in my last post, another revival occurred in 1801. This was another boost to what came to be known as the Second Great Awakening in our nation.
The place looks different from the drawing above because in about 1954 a rock building was built around the original log structure. Today it looks like this.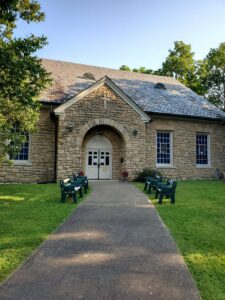 Inside the old portion, it is very simple as you can see.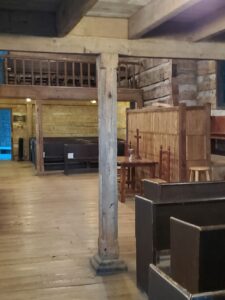 I was particularly drawn to the west door that now looks out on stained glass windows of the enclosing church.
The windows weren't what attracted me, though. I felt the Lord saying, "Go out this door to all the world and tell them of Me." I wonder if those words were and echo of what may have been spoken at some time in the past to those who worshiped there.
I feel those words are as true today as they were back then. What do you think?
My books are available at https://www.amazon.com/-/e/B007F5H0H4.