Red River Meeting House
Red River Meeting House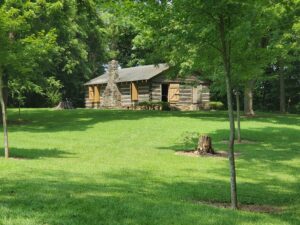 After looking for my great-great grandfather's grave in Russellville, KY which I wrote about a couple of weeks ago (see here) my son and I traveled a few miles south on 431 highway to this simple log building. This is the Red River Meeting House, sight of the beginning of the Second Great Awakening that occurred in June of 1800.
The Holy Spirit began to convict people of their sin and they came from great distances to hear the  young and old  inspired by the Spirit to preach Truth to those in need of God's forgiveness. It was a time of great turning to the Lord. This began a great time of spiritual revival in the United States.
The day we visited we found a group there from Alabama who had gathered for a prayer meeting. Unfortunately, we were too late to join them so we had a short prayer meeting of our own before heading on down the road. Even though the temperature sat in the 90s, the place had a refreshing peace about it, nestled there in the trees.
It's time for another move of the Holy Spirit in our world today, don't you think?
My books are available at Amazon.com here.