Fort Frederica
Fort Frederica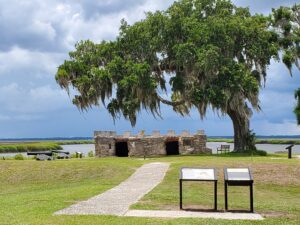 Part of the fun of travel is discovering nuggets of history not taught in school.
In 1735 early settlers of Georgia built Fort Frederica on St. Simons Island to protect Georgia and the Colonies to the north against the Spaniards who were already established in Florida. The fort was heavily supplied by the British crown.
Six years later more than 3,000 Spanish troops landed in 52 vessels and were defeated by the British troops. Thus, Georgia remained a British Colony.
This area was also the site of many homes laid out in square blocks that are still being excavated to this day.
In reading the various plaques in this national park, I discovered a surprise. John and Charles Wesley, founders of the Methodist Church, preached here on the third floor of one of the two storehouses.
According to the commentary in front of one home's location I learned, "The wife of the regimental surgeon, town doctor, apothecary, and magistrate was frequently embroiled in lawsuits. His wife, Beatre, was ill tempered. She attempted to kill The Rev. John Wesley."
Obviously, she was not successful. One wonders how different many lives might have been, had she succeeded!
My books are available on Amazon.com at https://www.amazon.com/-/e/B007F5H0H4