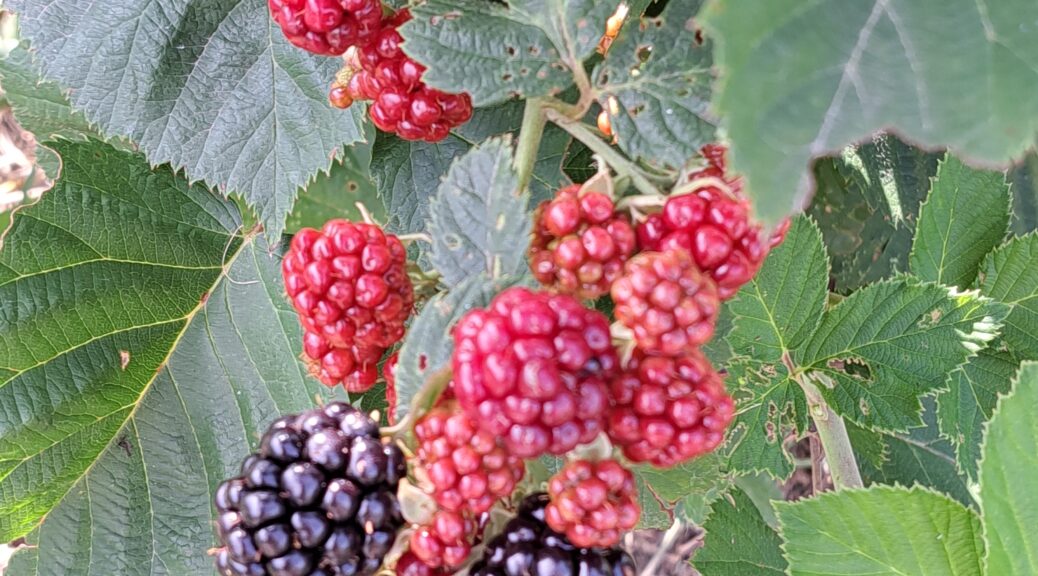 IT's Blackberry Time
IT's Blackberry Time
Blackberries make wonderful pies. The only drawback, they're ready to pick in the hottest months of the year!
I went to the blackberry patch in Louisburg, KS last week when it was only 80 degrees at 8:00 a.m. As you can see, there will be a lot more soon. I managed to pick enough for nine pies, so I'll have to ration myself to one every six weeks or so to make them last.
Here's a recipe for a great blackberry pie.
Berry Pie
Preheat oven 400 degrees
This recipe can be used for any fruit filling.
3 cups fresh, canned, or frozen fruit or berries
2/3 to 1 cup sugar
3 tablespoons cornstarch or 4 tablespoons flour
1 tablespoon butter
Line a 9-inch pie plate with pastry; fill with berries.
Mix together sugar, cornstarch, and a dash of salt; sprinkle over fruit.
Dot with butter; adjust top crust. Crimp the edges to seal the top and bottom crust together.
Bake at 400 degrees 40 to 50 minutes.
I'll include my recipe for Never-Fail Piecrust, in case you missed it in an earlier post.
Directions:
Set oven at 400.
Mix together:
5 cups flour
1 teaspoon baking powder
1 teaspoon salt
3 teaspoon brown sugar
1 lb (2 generous cups-I use about another half cup) lard (I use solid Crisco—not butter flavored.)
Mix these ingredients together with a pastry mixer or two forks until blended.

Then mix together:
1 tablespoon vinegar
1 egg, slightly beaten
Water to make up to ¾ cup

Add the wet mixture to the flour mixture. Mix it until it sticks together. Don't handle the dough too much. It will make the crust tough. Form the dough into 5 balls. Keep out how many balls you need. Put the others in a Ziploc bag in the refrigerator to use later. You can store the unused portion up to a month.
Wet the counter slightly with a sponge and lay a waxed paper down. Lightly dust the waxed paper with flour and put the smashed ball on the paper. Put another waxed paper on top and roll out each crust. Peel off the top waxed paper. Place the pie pan upside down on the rolled out dough, grab a corner of the waxed paper and flip the pie pan with the dough. Now peel the waxed paper off the dough. Crimp the edges and bake at 450 degrees 10-12 minutes.
If you're making a double-crust pie, roll out the first dough, then fill the pie with fruit,* and place a second crust on top. Crimp the top and bottom edges together. Bake according to pie recipe directions.
The less you handle the dough, the better it is.