Ice Cream in a Bag
Ice Cream in a Bag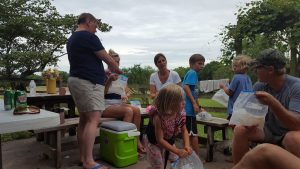 Our family always likes ice cream, but few want to crank the gallon and a half until it's frozen. Some want strawberry, others desire blueberry. The purists want plain vanilla.
With this recipe, each person can make their own flavor. and it only takes about five minutes.
I must warn you–it's habit forming! This and other recipes are found in my book Family Favorites from the Heartland, available on Amazon at the link below.
Ingredients:
½ cup milk (for richer version use half &  half)
½ teaspoon vanilla
1 tablespoon sugar
4 tablespoons table or rock salt*
4 cups crushed ice
1 quart sized bag
1 gallon sized freezer bag
Directions:
Add milk, vanilla, and sugar to the small bag. Seal it and put it in the other gallon size bag. Add the ice and rock salt to the large freezer bag.
Mix and shake for 5 minutes or until the milk mixture becomes ice cream.
Wipe off the bag and enjoy.
Variation:
Replace the regular milk, vanilla, and sugar with chocolate, strawberry or root beer milk.
*Kosher or rock salt works best. If using table salt, bigger granules work better.
This recipe makes a single serving so take that into account when measuring.
To see my books visit http://www.amazon.com/-/e/B007F5H0H4