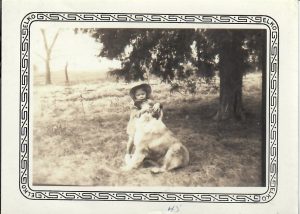 I spent a lot of time at my grandparent's home near Nevada, Mo during the turbulent years of WW II. Dad was first stationed in Fort Leavenworth, then Oregon. He spent a brief time in Waynesville before he shipped out for France, then Germany with the Army's 70th Division. He arrived on the battlefield just after the Battle of the Bulge, 1944 at age 34.
Since Mom held the position of store manager for the Edmiston's Department Store in Fort Scott and Ottawa, KS, I was shuffled back and forth to Grandma's often.
One of my companions was a collie named Sarge. When I went outside, he was always beside me. Here we are in Grandma's side yard. I write about these years in Hard Times in the Heartland. Hard to believe this was over 70 years ago!
To see my books visit http://www.amazon.com/-/e/B007F5H0H4