A Birthday Present
A Birthday Present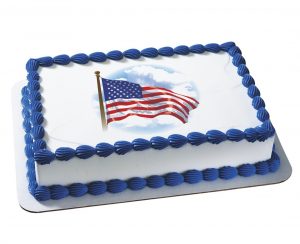 OLD GLORY
Look to me and remember well
the days gone by and those who fell,
giving their lives for freedom's sake
knowing their sacrifice was no mistake.
Look to me and remember the present.
Pray for each and every resident
who lives in this great land of ours
that by God's grace we'll be empowered.
Look to me; remember those yet to come
who'll stand in our stead and march to the drum
0f a land established for God's glory;
a place of freedom to share His story.
In 1997 I attended my first critique group at Colonial Presbyterian Church in Kansas City led by Dan Quisenberry. He served as a great pitcher for the KC Royals and was also an accomplished poet.
A few months later someone asked him in the entry hall after church to write a poem for the dedication of our new flag pole in the church's front yard.
Without hesitation, he turned to me and said, "Sally can do it for you."
I'd written poetry for years, but kept it tightly hidden under the bed. Could I pull this off? Dan thought so, so I'd give it a try. The above poem is the result.
Now, twenty years later, my work has appeared in many publications and ten books carry my name on the cover. Who would'a thunk it?
Can you think of someone you could encourage in some way? Why not give our nation a birthday present by sharing a good word with another person. Let us hear about your adventure.
To see my books visit http://www.amazon.com/-/e/B007F5H0H4