GAZPACHO SOUP
GAZPACHO SOUP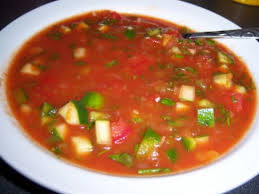 One of the things I love about summer is fresh veggies. This is a great way to cool off on a hot day.
INGREDIENTS:
2 cups V-8 juice, divided
2 Tablespoons olive oil
2 Tablespoons red wine vinegar
1 chicken bouillon cube
1/2 teaspoon garlic salt
1/2 teaspoon salt
1/8 teaspoon pepper
3 dashes hot pepper sauce
1 ripe tomato, peeled and cubed
1 cup diced peeled cucumber
1/4 cup green pepper, cut into 1-inch squares
1/4 medium onion, sliced
optional: chopped tomatoes, cucumbers, green peppers and croutons
TO PREPARE:
In a blender or processor combine one cup V-8 juice and next seven ingredients at medium speed for a few seconds.
Add tomato, cucumber, green pepper, and onion.  Process until tomato is evenly chopped, but do not puree.  Add remaining one cup of juice.
Pour into covered one-quart container, and chill for four hours or overnight.  Garnish
servings with chopped vegetables and croutons if desired.
SERVINGS:  4 to 6
To see my books visit http://www.amazon.com/-/e/B007F5H0H4