God's Blessed Surprises
God's Blessed Surprises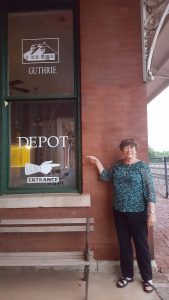 I spent an exciting weekend recently speaking to Wordwrights, a Christian writers group from Oklahoma City. We met at a home of one of the members near Mulhall, OK. Donna and her sister, Gloria, run a restful retreat center called Yonderland the Way Station on their property.
I love speaking to writers. There is an amazing synergism of creativity that happens when writers gather. God filled our time together with unexpected surprises above and beyond our expectations.
Friday night my hostess and I ate at Lucille's, a local restaurant in Mulhall, just five miles from where my great-grandfather homesteaded in 1889 in the Oklahoma Territory. The Late Sooner is the story of their experience there.
We ran into Donna's new neighbor who said,"Oh, I don't write" when she found out about the conference.
"Come anyway. Just listen." Donna said.
I added, "No one is born with a pen in their hand. Do join us."
She came the next morning and enjoyed a day of much-needed fellowship and refreshing.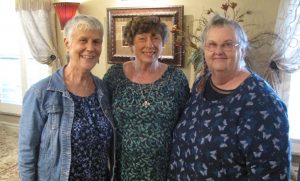 Barbara, Sally, and Donna
Barbara Z. gave a short devotion before we began using Genesis 49:21. Jacob is dying and gives each of his twelve sons a blessing. These sons became the twelve tribes of Israel. To Naphtali he says, "Naphtali is a doe let loose, he gives beautiful words." Barbara said because we are writers, she felt we are of the tribe of Naphtali. I agree.
I had underlined that scripture in my Bible before, but it took on a deeper meaning as she shared with us.
Later, I learned Barbara originated in Olathe, just nine miles from where I live. As we visited we discovered we had a mutual friend I'd grown up with in Fort Scott, KS, which is on the extreme east end of the state.
"How did you get to know Nancy?" I asked.
"She and I were friends and worship leaders when we both lived in Leota, KS." For those of you who don't know Kansas geography, Leota sits on the extreme west of the state. Such a small world!
Barbara substitute teaches in her retirement and is going to read The Late Sooner to the fourth-grade class when she soon will fill in a long-term assignment for another teacher. In Oklahoma, students learn state history in their fourth-grade curriculum.
This fulfills one of my desires in writing that book–that young people would learn the price paid by ancestors to give us the wonderful life we enjoy today.
God never ceases to give us unexpected surprises and for that I am so grateful.
My titles are available on Amazon.com here.
God's Little Miracle Book is now available in audio at https://itunes.apple.com/us/artist/sally-jadlow/1303687606 for iTunes and at Amazon at https://www.amazon.com/-/e/B007F5H0H4