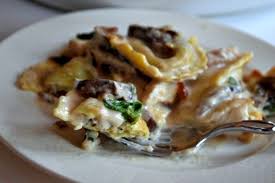 Dump and Bake Chicken
Dump and Bake Chicken
I found this online. Looks yummy!
DUMP-AND-BAKE CHICKEN & RAVIOLI IN ALFREDO SAUCE
Author: The Seasoned Mom
Prep time: 5 mins
Cook time: 40 mins
Total time: 45 mins
Serves: 6-8
INGREDIENTS
• 24 ounces frozen miniature cheese ravioli
• 9 ounce (about 1 ¾ cups) chopped or shredded cooked chicken
• 36 ounces (about 4 ¼ cups) Alfredo sauce
• 1 cup frozen peas
• 1 cup shredded mozzarella cheese
INSTRUCTIONS
1. Preheat oven to 400 degrees F. Spray a 9×13-inch dish with cooking spray.
2. Stir together ravioli (still frozen is fine), chicken, and Alfredo sauce in the dish. Cover with foil and bake for 30 minutes.
3. Uncover, stir in the peas, and top with cheese.
4. Continue baking, uncovered, for 10 minutes or until cheese is browned and ravioli is tender.
To see my books visit http://www.amazon.com/-/e/B007F5H0H4