Brown Butter White Chocolate Cranberry Cookies
Brown Butter White Chocolate Cranberry Cookies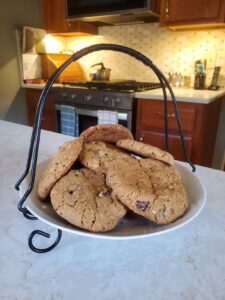 With the cooler days of fall, my mind turns to baking. I found a yummy cookie recipe the other day on the Kitchen Aid site. They are crunchy, but the cranberries give them a chewy texture.
Brown Butter White Chocolate Cranberry Cookies
1 1/2cups all-purpose flour
1teaspoon baking soda
1/2teaspoon sea salt
2sticks unsalted butter (browned and cooled, see Chef's Notes)
1cup light brown sugar (packed)
1/2cup white sugar
1egg (room temp)
1egg yolk (room temp)
1teaspoon vanilla
1cup old fashioned oats
1cup white chocolate
1cup dried cranberries
Equipment: KitchenAid® Cordless Hand Mixer with both turbo beaters, one medium mixing bowl, one high sided large mixing bowl, 2 cookie sheets.
Preheat oven to 350ºF/176ºC.
Place the flour, baking soda and salt in a medium mixing bowl. Fit your KitchenAid® Cordless Hand Mixer with both stainless steel turbo beaters. Insert the beaters into the flour mixture and turn to speed 2. Whisk the dry ingredients together for a few seconds, then turn the hand mixer off and set dry ingredients aside.
Place the brown sugar and white sugar into a high sided mixing bowl and add in the cooled browned butter. Insert the turbo beaters into the ingredients, turn the hand mixer to max speed 7, and cream the butter and sugars together for 4 minutes. Add the egg, egg yolk and vanilla, then continue to cream mixture on speed 7 for another 30 seconds, or until mixture is smooth. Reduce the speed of the hand blender to speed 2, and slowly add in the flour mixture in three additions. Mix just until flour is incorporated, then turn off hand mixer.
Add the oats, cranberries and white chocolate into the dough. Insert the turbo beaters back into the mixture, turn to speed 4, and mix the ingredients together just until incorporated, about 10 seconds.
With clean hands, slightly 'knead' the cookie dough to ensure all the ingredients stick together. Then, make golf ball sized balls with the dough and place them on a cookie tray to chill in the freezer for at least 10 minutes prior to baking. Once chilled, place the cookie dough balls at least 3" apart on your cookie sheet. Bake cookies at 350ºF/176ºC for 15-18 minutes, or until edges are slightly brown. Do not over-bake. Allow cookies to cool on the cookie sheet for at least 5 minutes before using a spatula to transfer them to a cooling rack.
CHEF'S NOTES: To make brown butter. Start with room temperature butter. Slice each stick of butter into quarters and put it into your skillet. Turn the heat to medium and, as it melts, use a whisk to occasionally stir as it melts. Once melted, the butter will begin to bubble. Continue to whisk on and off for another 5-8 minutes. Once you see the butter go from larger bubbles to more of a foam cap, the foam will subside and you'll notice the butter has turned golden brown and brown bits will be present at the bottom of the pan. Turn off the stove and remove the pan from the heat and allow it to cool for at least 15 minutes before using.
CHEF'S NOTES: Baking cookies at 350ºF/176ºC as instructed will yield a cookie with a bit of height, rounded shape and chewy center. If you prefer your cookies with a crispier edge and chewy center, bake them at 375ºF/191ºC for 12-15 minutes.
My books are available at https://www.amazon.com/-/e/B007F5H0H4