Brooke's Finished Project
Brooke's Finished Project
A few weeks ago I shared a story about granddaughter, Brooke, searching for buttons to use on her sewing project. She wanted to make a tree skirt for her home. The buttons she picked were off her great-great-grandfather's long johns. Earlier she had taken old jeans that belonged to her grandfather. She used the good spots from that material to make the Christmas trees on her tree skirt. The buttons served to close the circle and here is the finished project.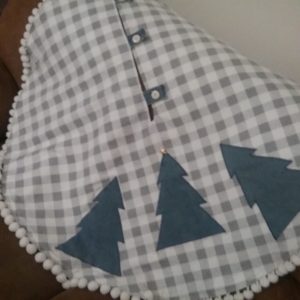 What items do you have around the house you can re-purpose into something new?
My newest book, The Road Home, an account of my husband's lung cancer and God's faithfulness to widows, is now available in paperback and eReader on Amazon.com here.