Gluten & Dairy Free Banana Bread
Gluten & Dairy Free Banana Bread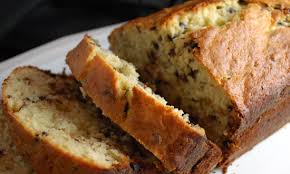 Gluten and Dairy Free Banana Bread
Ingredients
1. 3 small, ripe bananas
2. 1 tsp vanilla extract
3. 1 tsp chocolate extract
4. 1/4 cup unsweetened applesauce
5. 1/4 cup honey
6. 2 1/4 cups Gluten Free oat flour
7. 1/2 tsp baking powder
8. 1/2 tsp baking soda
9. 1/4 tsp salt
10. 1 tsp cinnamon
11. 1/3 cup dairy free mini chocolate chips
Instructions
1. Preheat oven to 350 degrees F. Spray a loaf pan with nonstick cooking spray.
2. To a blender, add the bananas, vanilla extract, honey, chocolate extract, applesauce, and blend until smooth.
3. Add the oat flour, baking powder, baking soda, cinnamon and salt and blend until well combined.
4. Remove the batter from the blender and place in a bowl. Fold the chocolate chips into batter by hand to disperse evenly throughout the batter.
5. Pour the batter into the prepared loaf pan. Spread the batter evenly with a rubber spatula
6. Bake 30-35 minutes until a toothpick can be removed from the center of the loaf clean.
7. Cool the bread in the pan 30 minutes on a wire rack.
8. Remove from the pan, cut into 12 slices and devour. Store in the refrigerator in a container to stay fresh up to a week.
To see my books visit http://www.amazon.com/-/e/B007F5H0H4
To see my other blog visit https://godslittlemiraclebook.wordpress.com/