Chicken Tortilla Soup
Chicken Tortilla Soup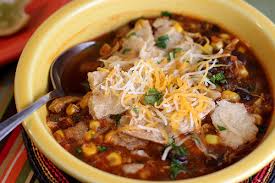 Chicken Tortilla Soup
Makes 10 servings
Ingedients:
• 2 Tablespoons olive or canola oil
• 1 medium onion, chopped
• 2 cloves of garlic, chopped
• 1 (7 oz) can of chopped green chiles
• 1 (10 oz) can of beef broth
• 1 (10 oz) can of chicken broth
• 1 (10 oz) can of cream of chicken soup
• 1 (12 oz) can chicken breast
• 1 Tablespoon Worcestershire sauce
• 1 teaspoon ground cumin
• 1 teaspoon chili powder
• 1/8 teaspoon pepper
• 1 can ro-tel tomatoes
• 1 can white corn
• 1 can black beans
• 6 corn tortillas cut into bite-sized pieces
Instructions:
1. Saute the onions and garlic in the oil until the onions are clear.
2. Add the mixture to a crock pot.
3. Add the rest of the ingredients EXCEPT the corn tortillas.
4. Cook on the high setting until the mixture boils (around 2 ½ hours).
5. Add the bite-sized pieces of corn tortillas and allow the soup to simmer at least one more hour.
6. The mixture becomes very thick.
7. Garnish with shredded cheese if desired when served.
In case you're looking for a great devotional book for the new year or a wonderful historical fiction, check them out here in paperback and e-reader.
Looking Deeper at Amazon.com.

I also maintain another blog: godslittlemiraclebook.wordpress.com