20/20 Hindsight
20/20 Hindsight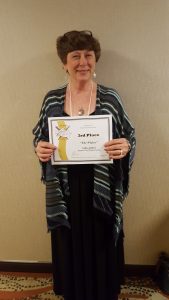 Each January signals a mad scramble to enter the Oklahoma Writer's Federation contest before the cut off date of January 31. This year I was ahead of the game. I entered thirteen categories on January 8.
This last weekend I attended the conference in Oklahoma City. On Saturday night they announce the winners. As I sat at the banquet awaiting the results I noticed a strange irony on my entry list. My entries included titles such as Good Memories, Last Farewell, The Widow's Song, Missing Daddy, The Widow, and Changing Times.
I wonder if the Lord was sending me a signal that He knew I'd be a widow by May 5? Perhaps, in His mercy He hid that little detail from me.
P.S. I took Third Place in the Inspirational Article Category with twenty-nine entries.
God's Little Miracle Book is now available in audio at https://itunes.apple.com/us/artist/sally-jadlow/1303687606 for iTunes and at Amazon at https://www.amazon.com/-/e/B007F5H0H4