The Impossible Quiche
The Impossible Quiche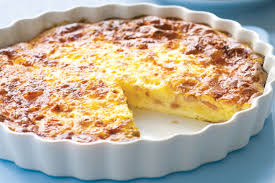 Do you like quiche, but don't like to have to mix and roll out dough? Here's a quick and easy recipe that makes it's own crust.
The Impossible Quiche
12 slices bacon, crisp fried and crumbled
1 cup shredded swiss cheese (or cheddar if you prefer)
½ teaspoon chopped thyme (optional)
1/3 cup finely chopped onion
Sprinkle over the bottom of a lightly greased 9-10 inch pie plate
Blend together these next ingredients (below) in a high-speed blender. Pour it over the ingredients in the pie plate.
Bake at 350 about 50-55 minutes or until brown. Let stand 5 minutes before cutting.
½ cup Bisquick
4 eggs
2 cups milk
½ teaspoon salt
1/8 teaspoon pepper
Try it and tell me what you think.
To see my books visit http://www.amazon.com/-/e/B007F5H0H4