Zucchini Pizza Casserole
Zucchini Pizza Casserole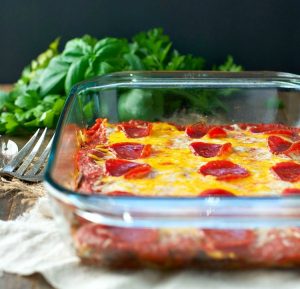 Zucchini Pizza Casserole
Author: The Seasoned Mom
Prep time:  10 mins
Cook time:  35 mins
Total time:  45 mins
Serves: 8
Ingredients
4 cups "zoodles" (zucchini noodles) (I used about 3 small zucchinis)*
½ teaspoon salt
2 eggs
½ cup grated Parmesan cheese
2 cups shredded mozzarella cheese, divided
1 cup shredded cheddar cheese, divided
14 ounces pizza sauce
15 slices turkey pepperoni
Instructions
Preheat oven to 400 degrees F. Spray a 13×9-inch baking dish with cooking spray and set aside.
Place zucchini in a colander, sprinkle with salt, and allow to sit for about 10 minutes (this will help draw out some of the water from the zucchini). After 10 minutes, squeeze out moisture from the zucchini.
In the prepared dish, combine zucchini, eggs, Parmesan cheese, 1 cup of mozzarella cheese, and ½ cup of cheddar cheese. I like to use my hands to make sure that it's all completely combined, and then press the mixture into the baking dish like a crust.
Bake for 20 minutes.
Top cooked zucchini with pizza sauce, pepperoni, and remaining cheese.
Bake for another 15 minutes, or until heated through and cheese is melted.
NOTES
*If you don't have a spiralizer, or if you want a shortcut, you can purchase zucchini noodles in the produce section at a lot of grocery stores. Alternatively, you can use about 4 cups of grated zucchini.
To see my books visit http://www.amazon.com/-/e/B007F5H0H4