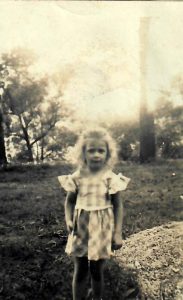 My mom and I moved several times during WW II while Dad was in the Army. He'd already served three years in the 30s, but Uncle Sam drafted him soon after I was born in the early 40s.
In order to be near him, we moved to Albany, Oregon because he was stationed at Camp Adair with the 70th Division. He trained troops there for the south Pacific.
Our next move was to Fort Leonard Wood, near Waynesville, Missouri. After a few months, Mom and I moved back to Fort Scott where we began, while Dad received orders to France in 1944 and later into Germany.
I think Mom took this picture when we lived in Oregon. Our first house there was a basement divided into three rooms. I slept in a dresser drawer until Mom could locate a bed.
After we returned to Fort Scott, I spent a lot of time with my grandparents in southwest Missouri on a farm. Good babysitters were hard to come by in those days.
I cover these events in my latest novel, Hard Times in the Heartland available on Amazon in paperback and e-reader.
What memories of your young years do you recall?
To see my books visit http://www.amazon.com/-/e/B007F5H0H4