Pumpkin/Sausage Soup
Pumpkin/Sausage Soup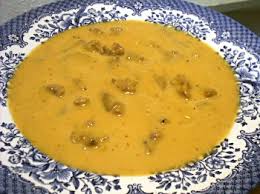 Pumpkin/Sausage Soup
Ingredients
1/2 pound sausage
1/4 cup butter
1 1/4 cups chopped onion
1 teaspoon dried thyme
1 1/2 pounds pumpkin puree (3 cups)
1/2 pound mushrooms
1/4 cup praline liqueur
7 cups chicken stock
1/2 cup packed brown sugar
3/8 cup heavy cream
Directions
Cook sausage in skillet with 2 tablespoons butter for 5 minutes.
Add onion and mushrooms and cook until soft. Add thyme and pumpkin and cook 5 minutes.
Add liqueur, broth, and brown sugar. Cover and simmer over low heat for 45 minutes.
In blender puree soup in batches. Return to pan and stir in cream and remaining 2 tablespoons butter. Warm but do not boil. Serve immediately.
To see my books, visit http://www.amazon.com/-/e/B007F5H0H4