Zucchini Flatbread Recipe
Zucchini Flatbread Recipe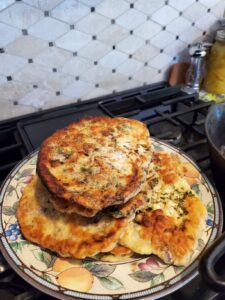 I'm always up to try new stuff in the kitchen. I found this recipe for zucchini flatbread the other day and decided to try it.
Zucchini Flatbread Recipe
Mix together:
1 grated zucchini
1 onion, chopped fine
2 eggs
2 t. salt
1 t. pepper
1 t. chili pepper flakes
Add:
3 ½ cups flour
1 t. baking powder
If too dry to form into a ball, mix in:
½ cup water
The dough should not stick to your hands at this point.
Cover in a bowl and let sit for 1 hour after rolling in a ball.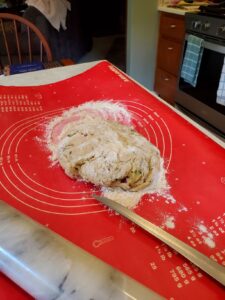 Flour a surface. Cut the ball into 8 sections.
Roll each section into a flat circle.
Fry each circle in a little oil over medium heat. Flip until browned on both sides.
Enjoy!
Note: You may want to add some chopped basil to the first ingredients for a little different taste.
Do you have any yummy flatbread recipes you would like to share?
My books are available at https://www.amazon.com/-/e/B007F5H0H4