Yummy Spaghetti Sauce
Yummy Spaghetti Sauce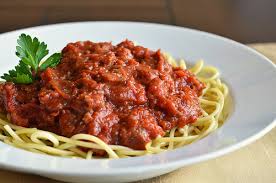 It seems like the wrong time of the year to be talking about spaghetti sauce–until you see one of the ingredients in this recipe. I make pesto every year from my crop of basil. I freeze small portions in sandwich bags to use in this spaghetti recipe and also I use it to make pesto bread. I'll give you the pesto bread recipe next week.
Spaghetti Sauce
Combine and fry 10 minutes:
1 lb. ground beef
1 onion-chopped
4 cloves of garlic
1 small green pepper diced
Then add:
28 oz. diced tomatoes
16 oz. of tomato sauce
6 oz. tomato paste
2 t. dried oregano
1/4 cup basil pesto (recipe below)
1 t. salt
½ t. pepper
½ t. crushed red pepper flakes
Simmer 1 hour
Top with grated Parmesan cheese
Basil Pesto
2 tablespoons pine nuts (sunflower seeds are cheaper)
2 large garlic cloves, chopped
2¾ cups fresh basil leaves (about 6 bunches)
2 tablespoons (½ ounce) grated fresh Parmesan cheese*
2 teaspoons lemon juice
3 tablespoons olive oil
Drop pine nuts (or sunflower seeds) and garlic through the food chute with food processor turned on. Process until minced.
With processor on, slowly pour oil through the food chute. Take the lid off and add the basil, cheese and lemon juice. Replace the lid.
Process until well blended. Spoon about 1/4 cup portions into small lunch bags and add them all to a zip-top heavy-duty plastic bag. Store in the freezer.
Yield : 1 cup
*If you want to freeze this pesto to use all winter, leave out the Parmesan cheese. It doesn't freeze well. Add it when you're ready to use the pesto.
Check out my cookbook and other books here.