Yummy Eggnog
Yummy Eggnog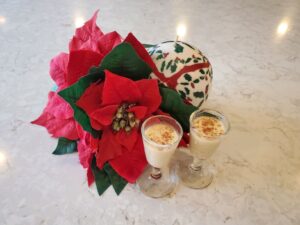 I got hungry for eggnog the other night and didn't want to run to the store so I looked online and found a yummy one. For some reason, it never occurred to me to make it myself. Since recipes are not copyrightable, I'll share it with you.
Homemade Eggnog
The BEST Homemade Eggnog recipe! Thick and creamy with the perfect mild flavor and hint of nutmeg. You'll never buy store-bought eggnog again!
Prep Time 15 mins
Cook Time 10 mins
Total Time 25 mins
Servings: 6
Calories: 307kcal
Author: Lauren Allen
Ingredients
6 large egg yolks
1/2 cup granulated sugar
1 cup heavy whipping cream
2 cups milk
1/2 teaspoon ground nutmeg
pinch of salt
1/4 teaspoon vanilla extract
ground cinnamon , for topping
Instructions
Whisk the egg yolks and sugar together in a medium bowl until light and creamy.
In a saucepan over medium-high heat, combine the cream, milk, nutmeg and salt. Stir often until mixture reaches a bare simmer.
Add a big spoonful of the hot milk to the egg mixture, whisking vigorously. Repeat, adding a big spoonful at a time, to temper the eggs.
Once most of the hot milk has been added to the eggs, pour the mixture back into the saucepan on the stove.
Whisk constantly for just a few minutes, until the mixture is just slightly thickened (or until it reaches about 160 degrees F on a thermometer). It will thicken more as it cools.
Remove from heat and stir in the vanilla.
Pour the eggnog into a pitcher or other container and cover with plastic wrap.
Refrigerate until chilled. It will thicken as it cools. If you want a thinner, completely smooth consistency, you can add the entire mixture to a blender with 1 or 2 tablespoons of milk and blend until smooth.
Serve with a sprinkle of cinnamon, and fresh whipped cream, if desired.
Store homemade eggnog in the fridge for up to one week.
My P.S. Rather than put rum in it, I put rum flavoring in it. The next day I used some leftover eggnog for some French toast with sourdough bread. Delish!
Hope you have a happy new year!
My books are available at https://www.amazon.com/-/e/B007F5H0H4