New Year 2021
New Year 2021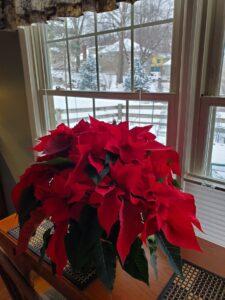 We kiss 2020 goodbye and turn the calendars to 2021. This past week we had a nice little snowstorm that left us with a blanket of white. My son, Josh surprised me the other night with a beautiful fresh poinsettia. Life is full of sweet surprises.
This is a time for goal-setting, although that and outlining stories send me into orbit. I think I'd rather pray a prayer poem for this new year. That's more my style.
I Love You, Lord
I want to see You face-to-face.
May others know Your grace
and find You as best friend;
filled with Your love and guidance to the end.
I want this world so deep in sin,
to turn to You again.
May this new year be more than we know to ask.
Strengthen our hands, make them equal to the task.
May the blessings of our Lord Jesus be with you and yours this new year of 2021.
My books are available at https://www.amazon.com/-/e/B007F5H0H4