Tortellini-Kale Soup
Tortellini-Kale Soup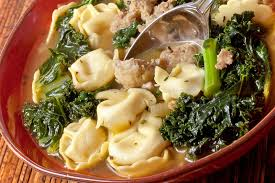 With fall chill coming his is a quick soup to warm your bones.
6 cups reduced-sodium chicken broth
1 cups coarsely chopped, firmly packed kale
2 cloves garlic, finely minced or ¼ t. garlic powder
1 (9 ounce) package refrigerated tortellini
¼ cup sliced green onions (include tops)
½ cup grated Parmesan cheese
In medium saucepan, bring chicken broth, kale, and garlic to boiling. Add tortellini and cook according the package directions until tortellini is tender but firm. For last 2 minutes of cooking time, stir in green onions. Serve with Parmesan cheese. Serves 5.