The Benefits of Journaling
The Benefits of Journaling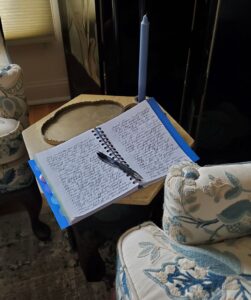 This past year I've found it hard to write. Then comes the condemnation. "You're a writer and you're not writing."
I took a step back and realized I had written, it just wasn't on the computer. It was in my journal. The reflections might be interesting for someone to read my perspective fifty years from now.
When I journal I not only write my prayers and what I what I feel the Lord is saying to me. It's a place to record answers to prayer. It's a great way to build my faith in Him and His faithfulness. I also record poems there.
It's a place where I can note a scripture that jumps out at me, or record the deep meaning of a Bible word from the Greek or Hebrew I find on blueletterbible.com.
My journaling also includes what's happening now. It's a great reference when I'm writing about something that happened a few years ago. I can find how I actually felt at the time or recall details I had forgotten.
Do you journal? Give yourself permission to jump in and try it.
My books are available at https://www.amazon.com/-/e/B007F5H0H4