Philly Style Sloppy Joes
Philly Style Sloppy Joes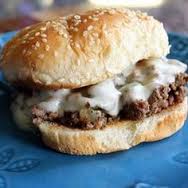 This Philly style sloppy Joes recipe is similar to a Philly cheese steak recipe but instead of using the thin sliced steaks it's made with ground beef. It cooks a bit quicker too since the beef is ground.
You can make it without the bell pepper but you should definitely not skimp out on the onions because they really do give the dish a whole lot of flavor. You can melt the cheese inside the sandwich or layer the slices right on the mixture in the skillet so that it can melt and then scoop it with the beef into the sandwich.
Quick and Easy Philly Style Sloppy Joes
Total time
15 mins
Serves: 6
Ingredients:
• 1 lb ground beef
• ½ cup beef broth
• 1 small onion, chopped
• 1 green pepper, chopped
• ½ Tbsp cornstarch
• ¼ cup A-1 steak sauce
• 2 tsp steak or taco seasoning
• 1 teaspoon olive oil
• ¼ tsp salt
• ¼ tsp ground black pepper
• slices yellow cheese
• Hamburger Buns
Instructions
1. Heat a large heavy duty skillet to medium/high heat. Add the chopped onions, peppers and 1 teaspoon olive oil. saute for 3-4 minutes or until they are soft. Pour into a smaller bowl and set aside. In the same skillet add the beef and brown ( 3-4 minutes), drain fat and set aside.
2. Return the veggies into the skillet and combine. Add the steak sauce, and seasonings. In a small bowl Whisk cornstarch into beef broth and add to the beef mixture. Simmer for 8-10 minutes, stirring occasionally, until most of the liquid is absorbed.
After you have turned off the heat Top with 3-4 slices of cheese and allow to melt. Toast hamburger buns and scoop mixture into the buns.