Leftover Soup
Leftover Soup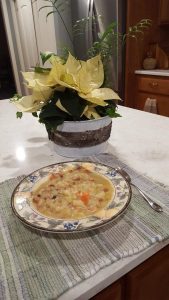 Christmas is over, the guests have gone home, and we have a refrigerator full of odd bowls of leftovers. The weather has turned cold and rainy—a good day for soup. I pulled out those snippets and went to work.
I took the bowl full of carrot and celery sticks from the relish tray, chopped them with some onions and leftover ham and threw them together in the skillet and added a little butter.
While those things simmered, I added a carton of chicken broth, a couple cups of water, and a tablespoon of chicken base. I found a container of about a cup and a half of mashed potatoes and added them to the mix along with some salt, pepper and garlic salt. Then I added a peeled and chopped potato.
To thicken the soup, I mixed a tablespoon of corn starch to a cup of water. I simmered all these ingredients for a half hour. Not bad redemption for some leftovers.
God's Little Miracle Book is now available in audio at https://itunes.apple.com/us/artist/sally-jadlow/1303687606 for iTunes and at Amazon at https://www.amazon.com/-/e/B007F5H0H4