Jesus' Fishnet
Jesus' Fishnet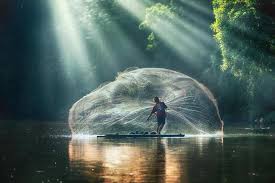 I read a blog the other day which reminded me of a poem I wrote over forty years ago.
JESUS' FISHNET
My Lord is making a fishnet.
He is making it fine.
His Spirit wound with us is the twine.
Each one is a knot;
It is a very fine net
To catch up many fish
In this fine mesh.
Jesus is the fisherman;
The harvest will be plenty,
According to His greatness.
Mend your nets, oh My people;
Mend your nets and make them strong
For it won't be long before I am ready.
If Jesus said that to me over forty years ago, we are forty years closer to his return. From the looks of the world in this day, I am more and more convinced His return in imminent.
What are your thoughts on the subject?
To see my books visit http://www.amazon.com/-/e/B007F5H0H4