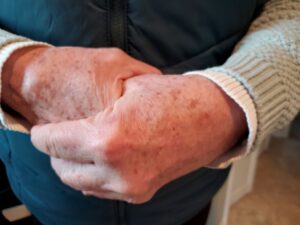 A couple of weeks ago the phrase "hold fast" kept coming to me.  It came in the daytime and even in the middle of the night. Finally, I got up at 3:00 a.m. to see where it appeared in the Bible.
The first instance was Hebrews 3:6 which reads, "but Christ was faithful as a Son over His house whose house we are, if we hold fast our confidence and the boast of our hope firm until the end."
The second reference talks about God's forgiveness so we can come into His presence because He promises, "we have become partakers of Christ if we hold fast the beginning of our assurance firm until the end" (Hebrews 3:14).
The third says "Let us hold fast the confession of our hope without wavering, for He who promised is faithful;" (Hebrews 10:23).
Revelation 2:25 talks about holding fast until Jesus comes. And lastly, Revelation 3:3 speaks of holding fast what we have received and heard.
Has God spoken something to you? Have you grown weary in waiting to see it come to pass?
I have some things on my heart that I'm sure God has spoken to me, but have not come into view yet. After I looked up the scriptures in the early morning hours, I sat with my hands in my lap positioned like the picture above. Suddenly, Jesus gave me a picture of what holding fast looks like. As I hold on tightly to Jesus (as I held tightly to my thumb), He holds me and the things He has promised with His four fingers. Together we make a strong bond–if I continue to hold fast.
Do you have promises He's given you which you need to hold fast to Him to see happen?
My books are available at https://www.amazon.com/-/e/B007F5H0H4