White Grape Jelly
White Grape Jelly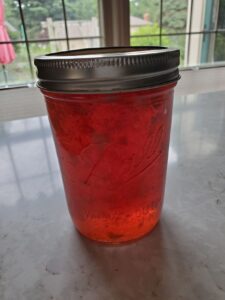 In early August I found a few white grapes on some old grapevines and decided to make jelly.
After washing the two pounds of fruit, I put them in a large pot with about a cup of water and boiled them for about 10 minutes. While they cooled a little I made a bag from muslin and added a drawstring. I attached the drawstring to the latch on the window above the sink, and let the juices drip overnight into a mixing bowl. The next morning I wrung the last of the juice from the bag and set the precious liquid on to boil for about twenty minutes with a two cups of sugar and a dash of lemon juice.
The first picture in this post is the result. When winter winds chill, I'll have some yummy grape jelly to remind me of the hot summer day this was made.
My books are available on Amazon.com at https://www.amazon.com/-/e/B007F5H0H4