God's Promises
God's Promises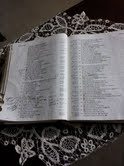 Exodus 15:26 And He said, "If you will give earnest heed to the voice of the LORD your God, and do what is right in His sight, and give ear to His commandments, and keep all His statutes, I will put none of the diseases on you which I have put on the Egyptians; for I, the LORD, am your healer."
Deuteronomy 28:1 Now it shall be, if you diligently obey the LORD your God, being careful to do all His commandments which I command you today, the LORD your God will set you high above all the nations of the earth.
The whole chapter of Deuteronomy 28 gives us a long list of blessings and curses. If we diligently obey the Lord our God and do all His commandments, then He will set us on high above all the nations of the earth and pour out His blessings listed in that chapter. If we choose not to obey, there is an equally long list of curses.
At this point in our nation, it's time to run an obedience check.  I heard a long podcast about a certain plague facing us. If you send me an email to [email protected] I'll send you a link to it. In the subject line write LINK. I don't want the link here in case someone decides to ex it off.