Gluten Free Brownies
Gluten Free Brownies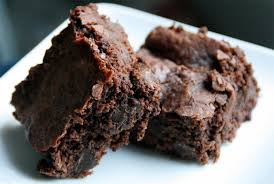 I'd never thought of putting black beans in brownies. A friend gave me this recipe. Everyone raves about it.
Gluten Free Brownies
1 can black beans; drained and rinsed
3 T. vegetable oil
3 eggs
¾ cup sugar
¼ cup cocoa powder
Pinch of salt
1 t. baking powder
1 t. vanilla
1 t. instant coffee
Blend until smooth.
Place the batter in an 8 by 8 pan.
Put ½ cups chocolate chips on top.
Bake 30 minutes at 350 until toothpick comes out clean.
If you use a 9 x 13 pan, double the recipe.
Check out my cookbook and other books here.