Espresso-Chocolate Scones
Espresso-Chocolate Scones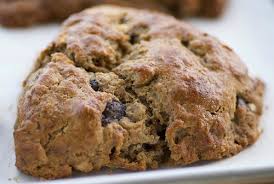 I love Bible study–because the members bring the yummiest stuff. This is Wanda's recipe that is deeeelicious! That's not the only reason; just one of them.
ESPRESSO-CHOCOLATE SCONES
3 cups flour
1/2 cup sugar
2 teaspoons baking powder
1/2 teaspoon salt
1/2 cup cold unsalted butter
1/2 cup chopped bittersweet chocolate
1 cup heavy whipping cream **add the espresso powder to the cream and let it sit for 5 minutes to dissolve before combining it
with the egg (see directions below)
1 tablespoon instant espresso powder
1 egg
2 tablespoons unsalted butter, melted
Preheat the oven to 375 degrees. Line a sheet pan with parchment paper; set aside.
Place the flour, sugar, baking powder, and salt in a large bowl and mix well. Add the butter and using your fingertips, blend until the mixture resembles a coarse meal. Add the chopped chocolate and toss to combine. Mix together the cream and the egg, add the mixture to the flour mixture, and stir until the dough just starts to come together (don't mix it completely, or the scones will be tough). Turn the dough out onto a well-floured board and form it into a ball. Cut the dough in half and form each half into a disk about 6 inches around and 1/2 inch thick. Cut each disk into 6 wedges. Place the scones on the prepared sheet pan, and brush with the melted butter. Bake until golden brown, 20-25 minutes. Let cool for about 5 minutes before serving. Serve warm.