Baked Round Steak in BBQ Sauce
Baked Round Steak in BBQ Sauce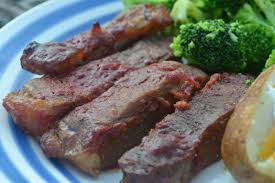 Baked Round Steak in Barbeque Sauce
5 lbs. round steak cut into 1-inch strips
2 T. veg. oil
1 clove garlic, minced
¾ C. distilled white vinegar
1 T. white sugar
½ C. ketchup
1 t. dry mustard
1 t. paprika
1 t. salt
1/8 t. black pepper
Directions:
Preheat oven to 325 degrees F.
1. Heat oil in a large skillet over medium heat. Brown steak strips on all sides. With a slotted spoon, transfer steak strips to a baking dish. Stir garlic into skillet, cook minutes. Add vinegar, sugar, and ketchup. Then stir in mustard, paprika, salt, and pepper; and simmer 3 minutes. Pour sauce over steak strips.
2. Cover baking dish, and bake in a preheated oven for 1 hour. Uncover, and bake for 30 minutes more.
To see my books visit http://www.amazon.com/-/e/B007F5H0H4
To see my other blog visit https://godslittlemiraclebook.wordpress.com/