Apple Pie Cookies
Apple Pie Cookies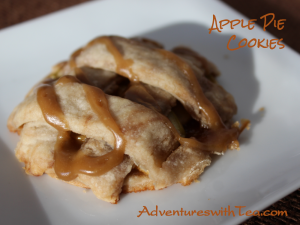 If you want a delicious cookie for a very special occasion these will fill the bill.
YIELD: 10-12 (I'd double this recipe for the cookies–not the piecrust.)
Apple Pie Cookies
Make this Never-Fail Piecrust but don't put it in a pie pan or cook it yet.
5 C. flour
1 tsp. baking powder
1 t. salt
3 t. brown sugar
1 lb (2 C.) lard ( solid Crisco) (make your 2 C. generous)
1 T. vinegar
1 egg, slightly beaten
Water to make up to ¾ C.
Combine flour, baking powder, brown sugar, and salt. Add Crisco. Work Crisco in with your hands.
Combine the vinegar, egg, and water in a measuring cup. Stir. Add to the flour mixture. Mix it until it sticks together. Form into 5 balls. Roll out what you need and put the others in a Ziplock bag in the refrigerator to use later.
Wet the counter with a sponge and lay a waxed paper down. Lightly dust the waxed paper with flour and roll out each crust needed.
Note: To make these Apple Pie Cookies, please stop here and go past the ***.
Place the pie pan upside down on the rolled out dough, grab a corner of the waxed paper and flip. Now peel the waxed paper off the dough. Crimp the edges and bake at 450 degrees 10-12 minutes.
If you're making a double-crust pie, roll out the first dough, then fill the pie, and place a second dough on top. Crimp. Bake according to pie recipe directions.
The less you handle the dough, the better it is.
***
Now you're ready to construct the cookies.
Roll out a large handful of pie dough and cut into 2.5-inch circles with a biscuit cutter. Place circles on an aluminum-covered cookie sheet. Then roll out another handful of dough and cut into 1/2-inch strips.
Make a Caramel sauce:
1/4 cup Heavy whipping cream (or half in half if you prefer.)
1 cup Brown sugar, packed
4 Tbsp. Butter
1/8 tsp. Salt
1/2 tsp. Vanilla extract
In a 2-quart saucepan, combine whipping cream, brown sugar, butter, salt, and vanilla. Whisk over medium-high heat until it begins to boil. Continue to boil for 3 minutes. Remove from heat and cool until slightly thick and creamy (about the texture of honey).
Cut a Granny Smith apple in half and remove core. Slice each half into 1/8-inch slices.
Spoon about 3/4 teaspoon of Caramel Sauce onto each circle, then place three apple slices on top of sauce. Cover with two dough strips across, then two more on top of that at a 90-degree angle. (It should look like a hashtag on top.)
Bake for 18-20 minutes at 350º F. Remove from oven and drizzle with remaining Caramel Sauce. (You may need to rewarm sauce.)
Now it's time to enjoy the fruits of your labor. Yum!
To see my books visit http://www.amazon.com/-/e/B007F5H0H4
God's Little Miracle Book is now available in audio at https://itunes.apple.com/us/artist/sally-jadlow/1303687606 for iTunes and at Amazon at https://www.amazon.com/-/e/B007F5H0H4